My Experience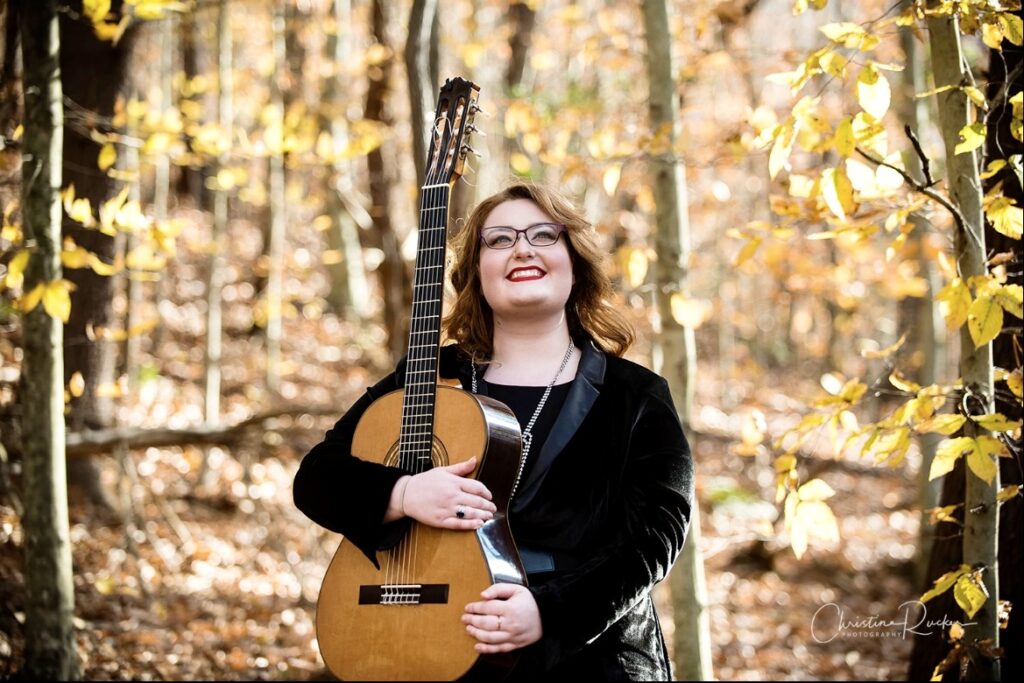 The Greensboro News and Record called Juliet Gervasi-Azam a teacher whose "students impart as much knowledge on her as she does on them"; a perfect description of her commitment to being a lifelong learner as well as a teacher. Juliet's calling to be a teacher is the result of over twenty years of passion and joy studying and performing music, and her desire to help others achieve their goals and experience the same fulfillment.
She earned her master's degree in classical guitar performance from the University of North Carolina School of the Arts in 2022, as the former graduate teaching assistant to the guitar program. In 2017 she earned her bachelor's degree majoring in music and minoring in education studies from Guilford College, where she also received the Bonner Excellence in Service Award. In 2013, she completed a January term program at St. Clare's College in Oxford, England, and studied for a semester in Siena, Italy with the Scuola Leonardo da Vinci. In 2011 she graduated from Weaver Academy for the Performing and Visual Arts' guitar program. 
She has performed in and attended numerous master classes and competitions, most recently placing second in the Eastern Music Festival's first ever guitar competition in 2015, and has placed twice in the Music Academy of North Carolina's Annual Guitar Festival and Competition.
She has extensive performance experience, performing as a soloist at events such as the Eastern Music Festival and Downtown Greensboro's First Friday, as well as private events such as the High Point Furniture Market, weddings, art gallery functions, book signings, banquets, funerals, corporate events, and various other contexts. She has also performed with many ensembles such as the Guilford College guitar ensemble, the Appalachian State University's annual Guitarfest ensemble, and the Consensus guitar quartet in the Eastern Music Festival's annual Chamber Crawl event.
Her first priority as a performer is her audience's experience. Whatever the occasion, Juliet loves working with people to curate the ambiance of their dreams, for an unforgettable event. As a classically trained musician she performs in diverse genres and styles, both as a guitarist and vocalist, such as: classical, jazz, pop, folk, Celtic, and more. Whether performing works from hundreds of years ago, or contemporary hits, Juliet brings the same craftsmanship and passion to every performance.
She has enjoyed her teaching career since 2013, teaching guitar, ukulele, beginner piano and voice, sight reading, music theory, and performance as both a teaching assistant and primary instructor at schools and institutions such as the UNC School of the Arts, Guilford College, the UNCSA Community Music School, and New Garden Friends School. In the summer of 2014, she also worked with the Eastern Music Festival. Currently she maintains a studio at Moore Music, as well as a private lessons studio. 
Her first priority as a teacher is always the student's experience. She strives to facilitate the accomplishment of their goals such as:
Becoming an accomplished classical/fingerstyle guitarist
Becoming an accomplished guitarist in other genres such as pop/folk/rock
Playing guitar while singing
Playing the ukulele
Reading music
Understanding music theory, ear training, music appreciation, and music history
Learning how to perform for an audience with confidence and poise
Benefiting from and enjoying a community of music lovers
How to play to accommodate and/or avoid injury and pain
How to cultivate a physically and psychologically healthy and sustainable practice habit that provides relaxation, improvement, and enjoyment
She provides a welcoming atmosphere that is intellectually challenging, nurturing, and engaging for students of all ages, and at all levels of ability and experience.
What I Offer
Virtual Lessons
If driving out to a studio doesn't work with your schedule, I can come to you instead! I offer one-on-one virtual lessons to students anywhere in the world via Zoom. Virtual lesson pricing starts at $30 for a 30-minute lesson, $45 for a 45-minute lesson, and $50 for an hour long lesson.
In-Studio Lessons
I offer private lessons in a studio environment at Moore Music located in central Downtown Greensboro. For further information, visit Mooremusiccompany.com.
Events
If you need professional music for an elegant wedding, or any other type of event, feel free to contact me.

Wedding flat rate pricing
Silver Package: Ceremony only – $250
Gold Package: Ceremony + Cocktail Hour – $500
Platinum Package: Ceremony + Cocktail Hour + Reception – $750
Non-Wedding Hourly Rate

Hourly rate for non-wedding performances is $100. If performance is requested to extend beyond the originally agreed upon time, an additional $25 per 10 minutes is charged (to be rounded up to the nearest 10.)